More Than You Know. Closer Than You Think.

Meet Reverend J. Gary Brinn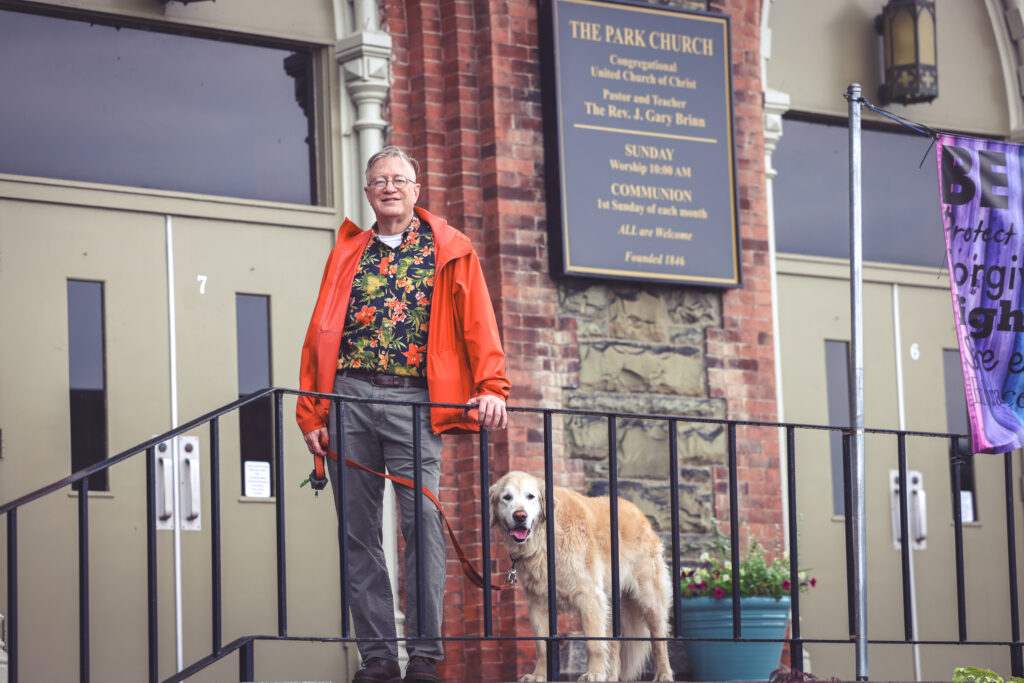 Reverend J. Gary Brinn is a clergyperson serving the United Church of Christ as the Pastor and Teacher at The Park Church (TPC) in Elmira.
He moved to the area two years ago, in the summer of 2021 after serving as a transitional minister in Door County, Wisconsin. Prior to that, he served at churches on the coast of Maine and on Long Island.
He knew about The Park Church and its amazing history from his prior years serving in the UCC's New York Conference (UCCNY). "I knew little about Elmira," he said. "I was conducting a nationwide search for my next call when UCCNY staff reached out and asked me to consider applying at The Park Church. The church was (and is) a great fit, with the added bonus of bringing me back to the East Coast, a conference I love, and near family in the Rochester area."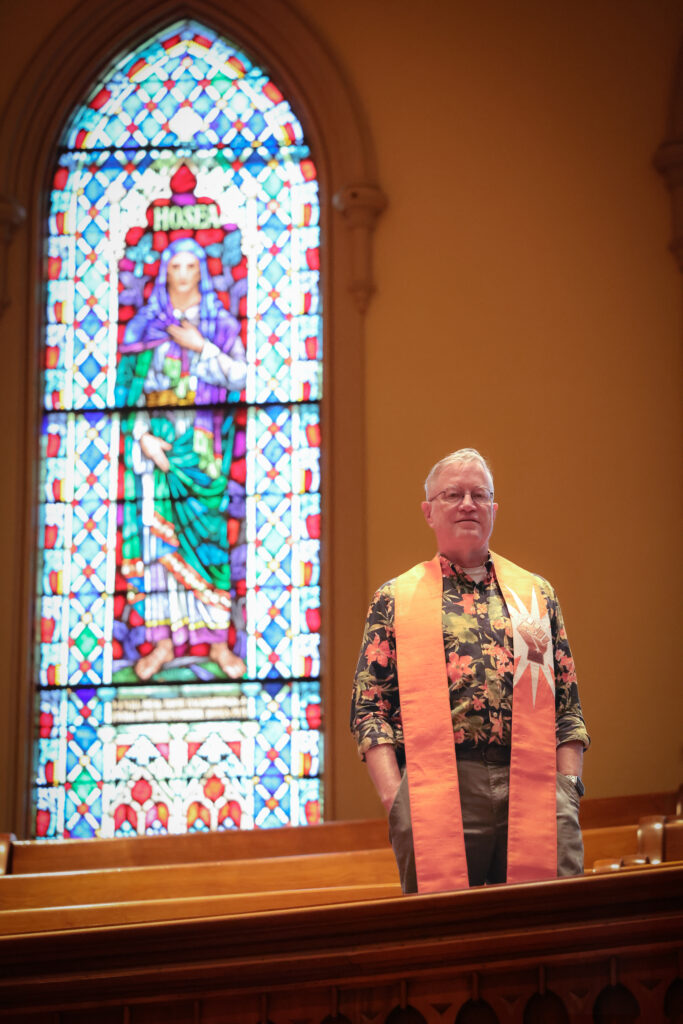 Despite not knowing much about Elmira, Rev. Gary quickly learned about the impacts of de-industrialization, the 1972 flood, and the role of the carceral state in the local economy. "These concerns actually excited me," he shared. "This was a place where you could do real ministry, and have a real impact."
The reverend has found the first two years in the area to be non-stop learning, all confirming those first impressions. "What I did not expect was a congregation as deeply engaged and committed as I am. This has been a real blessing."
Still, the relocation didn't come without its challenges. "We were still in pandemic mode, with a hot housing market, and both the congregation and the outgoing interim minister wanted me here as quickly as possible." He added, "Finding a suitable home that would be available almost immediately was a challenge. (It was my first glimpse of the need for housing justice work in Elmira.)"
Rev. Gary finally did find a home on the north side, in Elmira's 4th City Council District, where he lives with his beloved Golden Retriever, Oscar.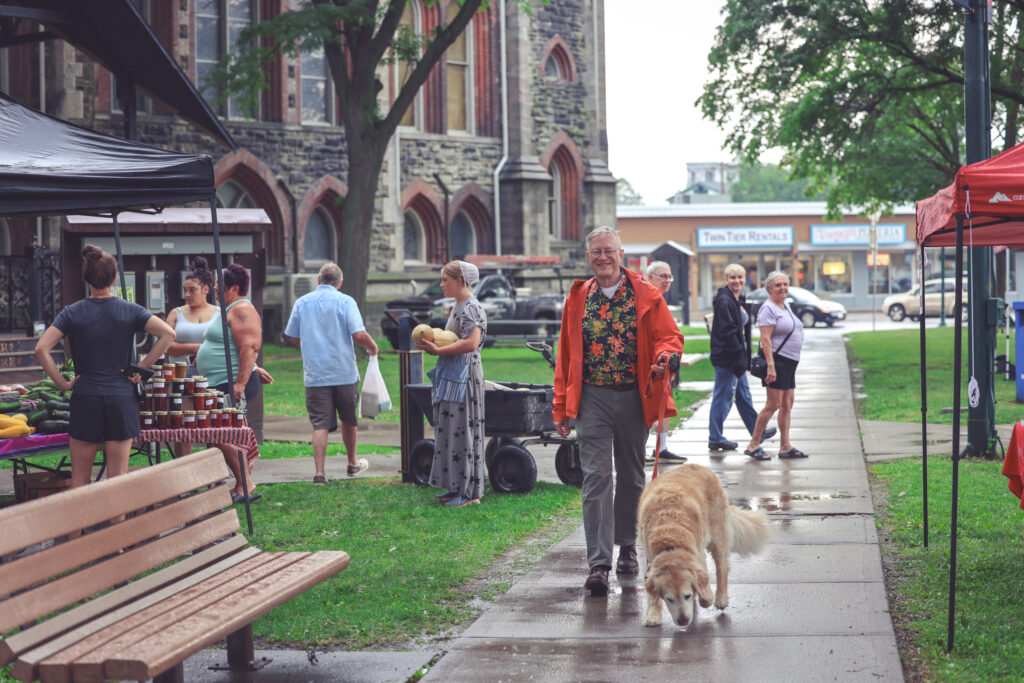 In addition to community, some of the other benefits Rev. Gary feels he has received from moving here were very personal, from a sister (and now his mother) in Rochester to collegial relationships from his prior call. "I am blessed to be working with some amazing church members and community organizers. Elmira's critical needs made it possible for me to start getting deeply involved in community organizing and leadership within a year of my arrival. Like most places, there is an 'old boys network,' but it has less power in a time of crisis and opportunity."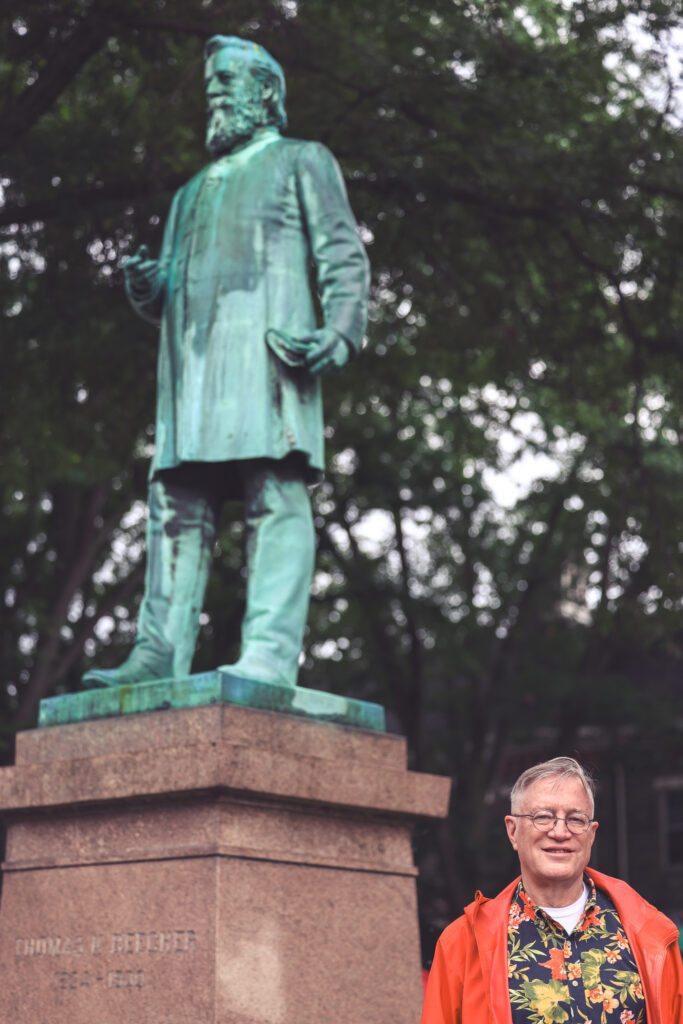 Rev. Gary's week centers on Sunday worship. On most other work days, he likes to head downtown for three hours in the Pastor's Study of his historic church, where he works at a desk once used by the Reverend Thomas K. Beecher. "I may meet with congregants, plan worship, or return calls. I usually work from home in the afternoon, writing and attending meetings via Zoom. Several nights a week, there are events and meetings, some online, some at the church," he said, adding, "These days, if I am not in a meeting, I spend an hour or so knocking on doors as I campaign for a City Council seat."
And like most homeowners, he finds the house and yard are an ongoing project. He enjoys watching sports and has had a chance to see our local teams and last year's NASCAR weekend at Watkins Glen. "When I'm not otherwise engaged, you might find me reading, or playing a new RPG on my Xbox."
While Rev. Gary admits that Elmira has plenty of challenges he also feels that is absolutely the best thing about it and he has a lot of hope in the newcomers making the area their home. "Enthusiastic new residents can have an impact as entrepreneurs, community activists, and even as homeowners restoring property."
For those looking at the Southern Finger Lakes as a potential relocation destination, Rev. Gary offers this insight: "In a time when some wish to impose their religious views on others, you will find freedom in New York State. No one is going to come between a woman and her doctor. Your LGTBTI+ kids will be as safe as they can be anywhere. There is much more to be done… and to borrow from the United Farm Workers, "Sí se puede!" (Yes, it is possible!)."
Thank you, Reverend Gary for sharing your story! Read more SoFLX stories to learn about life, work, and play in the Southern Finger Lakes.