More Than You Know. Closer Than You Think.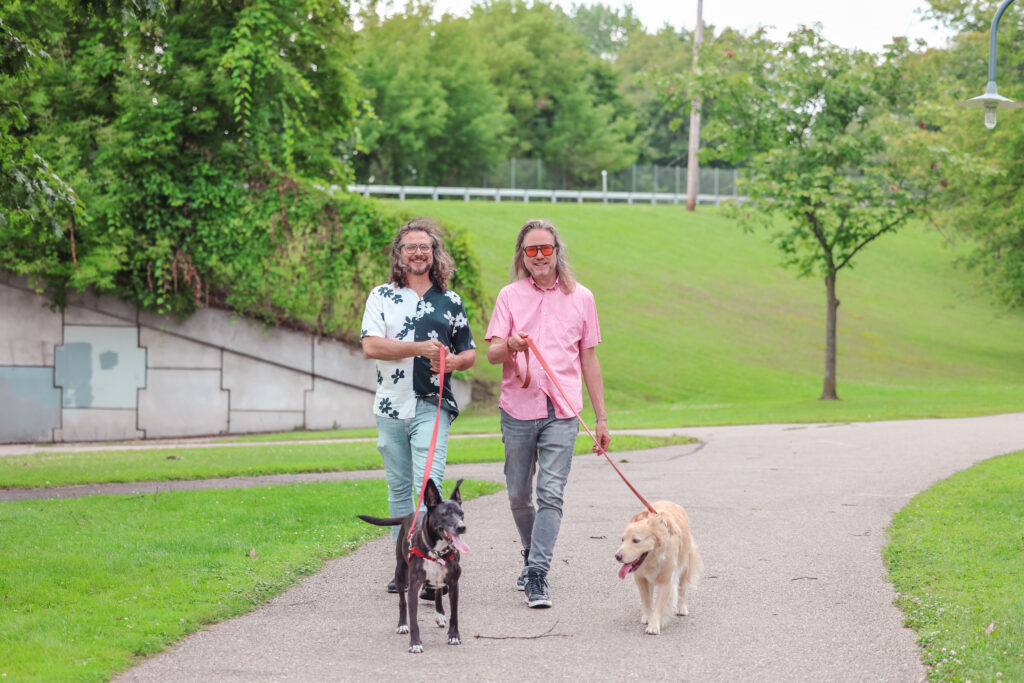 Meet Brian Lee Whisenhunt and Mitchell Smith
Brian Lee Whisenhunt and Mitchell Smith live in the Village of Painted Post, NY with their two dogs, Stella Josephine Parker and Nova Delphine Parker (The Parker Sisters), in a mid-century ranch that backs up to the woods. "Our family life is centered on time with friends and family; exploring the Finger Lakes region; lots of gardening and work around our property; travel and exploring different cities and communities near and far; we're also makers and performers, so we're always creating something or developing a new scheme of some sort."
Brian and Mitchell moved to the Finger Lakes from Midland, TX – "which is way out in West Texas desert" – in December of 2016. "After all that time away from bodies of water, large trees, and lush vegetation, we spent the first summer in the Finger Lakes in a little bit of shock. Honestly, we were both enraptured by the verdancy of this region and couldn't get enough of the natural beauty of it. We still can't."
They met in Wichita, KS before moving to Austin, TX, and then to Terre Haute, IN before heading back to Texas. Neither of them is from any of those places, so they've created family, found friends, and built community around them wherever they've gone.
Brian was born and raised in Tulsa, OK and Mitchell is a native of upstate New York. That's a bit of a joke between them because even though Mitchell was born in the Norwich area, he and his mother left when he was 3 years old, and he hadn't been back Upstate until his move with Brian.
Brian's role as the Executive Director of The Rockwell Museum brought them to the area. Though Mitchell still has family in the area and childhood photos from the region, they still didn't quite know what to expect when moving here. Mitchell's mother didn't really have fond memories and was worried they would be bored— but they have found that not to be the case!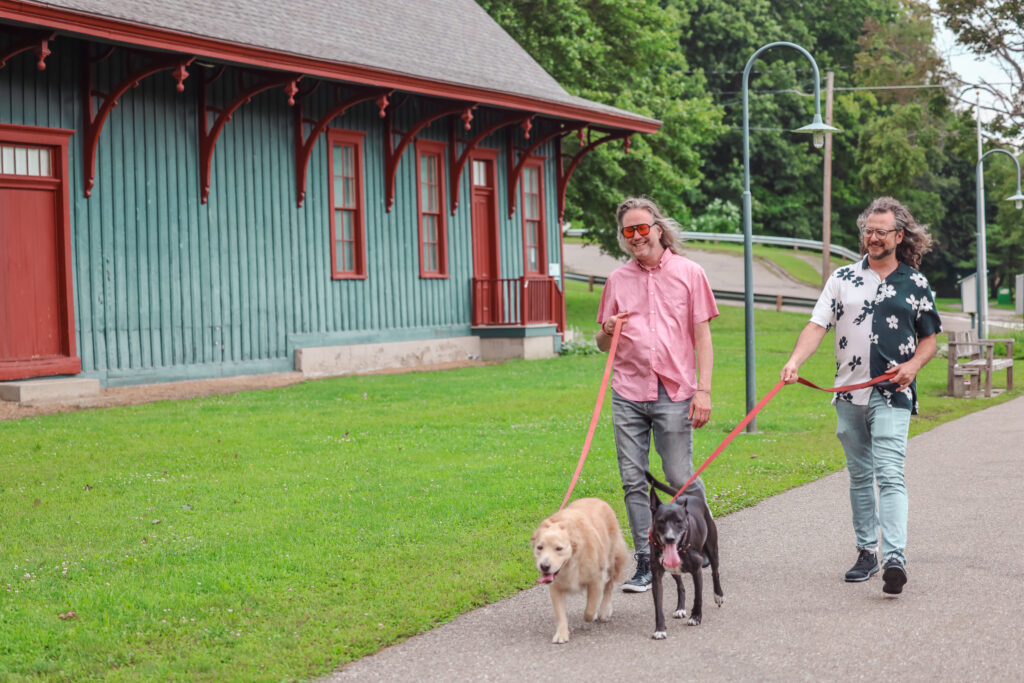 "Like a lot of people, our previous New York experience was New York City, so we didn't know a lot about the area. We were unaware of just how different it would be," Mitchell said. "We did some research before Brian had applied to be the new executive director at the Rockwell Museum, but we were concerned about the size of Corning, NY, and as a queer couple, initially weren't quite sure we wanted to move somewhere so small—even in New York state." In the end, Corning and the areas around it have proven to be an amazing place to live for them. "No matter where our travels take us, it always feels like such a comfortable, welcoming, and easy place to return to."
Other than having to drive their dogs across the country in a 3-door Toyota Yaris, the move was easy for them and things quickly fell into place once Brian accepted his new job. "We closed on our house in less than two months and were able to move in the day after we arrived in December. We had some help on the ground, so our advice to those relocating to the area is to never ignore tips and tricks from friends, neighbors, and acquaintances. Find someone who made the move recently and get all the info you can from them."
Their best tip, however, is "Start a list on your phone of the places, spaces, and things to do in the Finger Lakes! Everyone here is so generous in sharing the things they love and we're still checking things off and adding to the list we started when we moved here."
While Brian is enjoying his work at the museum, Mitchell has had a few jobs since arriving to the area, including working for the Hangar Theatre in Ithaca, 171 Cedar Arts Center in Corning, and now at Corning Community College Development Foundation where he is currently serving as the Director of Development.
Since they both have professional roles with community connections, they spend quite a bit of time on the events and activities of those organizations, like the Elmira Little Theater (ELT) and the Museum Association of New York (MANY). Mitchell was on the board of ELT and is a past president of the organization and Brian currently serves as the president of the Board of Directors of MANY.
"We found and developed a community of friends since our arrival that's much deeper and more expansive than where we've previously lived. There is just something extremely welcoming about Corning and the region—it's hard to describe, but beautiful to experience. Beyond the amazing people, the area is just beautiful. We try to spend the summer exploring with our dogs Stella Jo and Nova Dee. We have a lifetime membership for the State Parks and take advantage of the natural beauty that surrounds us whenever we can." Though they won't name their favorite State Park here because it's quiet and off the beaten path and they want it to stay that way! "But if you see us out and chat us up and we'll be happy to share all our secret favorite things."
Brian and Mitchell's day-to-day is pretty quiet and low-key. They appreciate their short commutes to work and the time it affords for their family, doing things around the house and relaxing after work. "We are lucky our careers support personal missions to increase access to art and culture for everyone. We love living in a community that truly appreciates the arts and the value they add to the quality of life."
Like a lot of people in the region, how they spend their time is informed by the seasons and the weather. At the time of this publishing, it's summer in the Finger Lakes, so that means they're trying to soak it all in and make the most of it. "This past weekend, we went to four different art openings in Corning on Friday evening. Afterward, we met some friends out for a late dinner at The Cellar which is one of our favorite places to eat and to take friends from out of town. Michael and Ellen (the owners) do a wonderful job at showcasing the produce and products of the region, no matter your dietary needs. On Saturday, we took Stella Jo and Nova Dee for a walk at their favorite park and then to run errands. They love being out and about. In the afternoon, we went kayaking with the Chemung River Friends and that evening attended a Solstice wine-tasting dinner at Silver Threads Vineyard, a small but excellent bio-intensive winery on Seneca Lake. Sunday the weather was amazing, so we spent most of the day working in our garden and around our property. In the evening, we made pizzas with friends and sat around the fire for a low-key finale to the weekend. Not every weekend is so fun-filled, but a lot of the summer ones are!"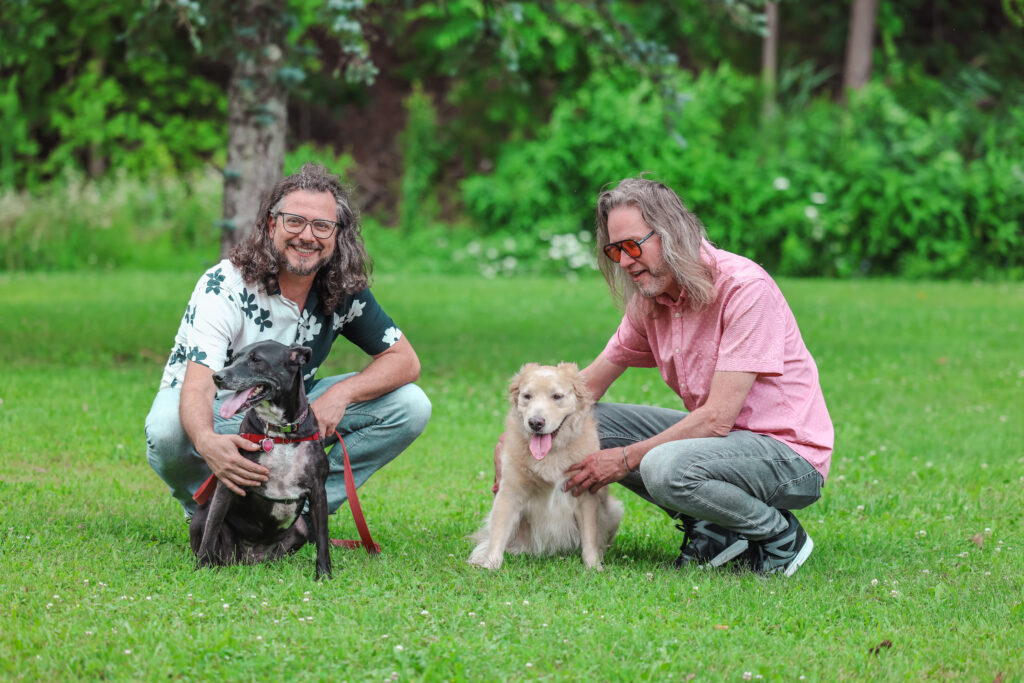 After living here for almost seven years, Brian and Mitchell are confident that whatever activity, community, or needs feed your happiness, you'll find it in the Finger Lakes. "If you want a more urban experience with shopping and well-known restaurants, it's easily accessible. But, the next day, you can find yourself in the woods on a hike along a waterfall after a beautiful breakfast at a little mom-and-pop cate. The variety and possibilities are truly endless."
They added, "We think it's important to know there are so many places to find your community in the Finger Lakes as we have through The Rockwell Museum, Elmira Little Theater, and so many other cultural organizations, festivals, and activities. The most important thing is to get out there and connect. You are not going to make the deepest community connections in the Finger Lakes from your home!"
Thank you, Mitchell and Brian, for sharing your story! Read more SoFLX stories to learn about life, work, and play in the Southern Finger Lakes.