More Than You Know. Closer Than You Think.

Meet The Weber Family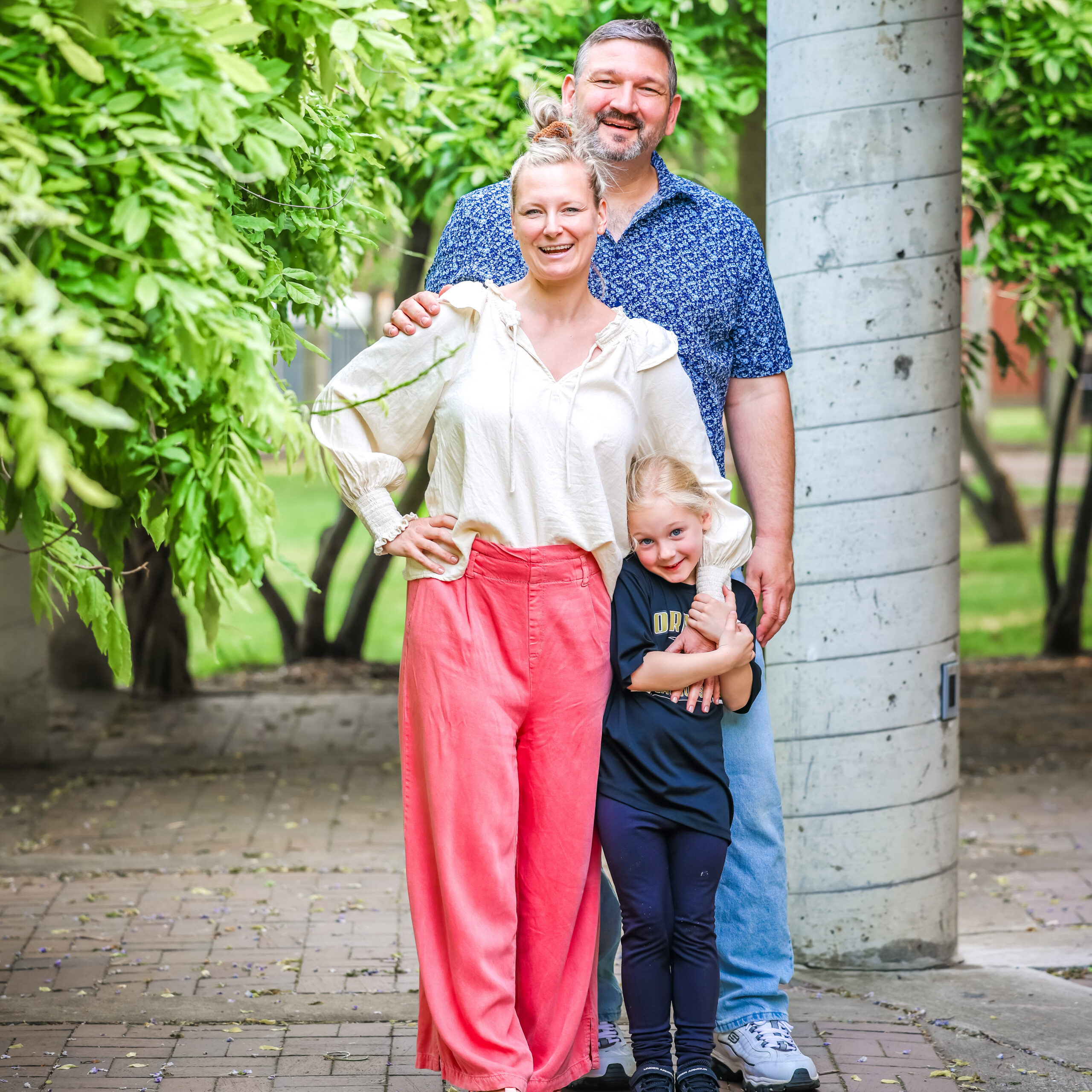 The Weber family – Margareta, Dennis, and their daughter Emma, moved to Corning's Market St. from Germany, close to Frankfurt, on August 12, 2021.
Dennis was hired by Corning Inc. in Germany in 2019. He visited the area once in 2019, stayed for two weeks, and told Margareta how beautiful the little town is. In early 2021, they were offered to temporarily relocate to Corning as expatriates, where Dennis works as a Sustainability Communications Manager. "That was exciting; we did not have to think about it very long and decided we wanted to come to Corning," Dennis recalls.
Dennis loved the area clearly, but Margareta and Emma had never been, and Dennis was concerned about whether they would like it. "As a family, we can only be as happy as our daughter Emma," Dennis said, "so Emma's well-being was our greatest concern." They wondered about all the things parents of a young child would be worried about: Would she adapt to the new situation? Would she quickly pick up English as a second language? The pandemic was still ongoing; everybody wore masks. Would that keep Emma from learning English?
When they agreed to come to Corning, they understood that Margareta would not be allowed to work due to visa regulations. As an energetic doer, they wondered how she would cope with the new situation. "That is why we chose Market Street over a country residence," Margareta said, "to stay close to where Dennis works, so we can have lunch together and tackle any upcoming issues without delay."
All concerns aside, they were excited to come to the United States. They had visited the States multiple times, and Dennis had spent years here. "We were excited to see New York City again and Niagara Falls. But most of all, we were excited to live in America and not be limited to, let's say, two weeks of vacation. We wanted to travel and explore."
Since their move, they say so many positive changes have happened. "We love it here in Corning. All worries about how we would adapt are gone," they said, adding, "The duration of our stay was extended from one year to three years. We are very happy about that extension, as there is still much to explore."
Margareta was granted eligibility to work, exciting news as that was a missing piece to what they consider their family's luck. She now works at the Heathered Grey boutique on Market Street and is very engaged in sharing and promoting the family's Corning experience on Instagram.
Emma is thriving in what the Webers describe as Corning's extraordinary educational institution. "ItsyBitsy Inspirations on Sunset Drive granted the best possible start for Emma's American journey," Margareta said. "She picked up English and reached the level of US-born children her age fascinatingly quickly." Now Emma is in Kindergarten at Carder Elementary, and her parents say her happiness with her school is mirrored in her daily excitement to learn and looking forward to the next day of school. "From our perspective as parents, Emma's integration could not have gone any better."
"After a while, when we started to visit places the second or third time, we realized that we had arrived as residents," Dennis said, adding, "Corning now has a calming certainty about it as our home."
The Webers cannot say they had tough challenges to manage upon their arrival, partly because of the tremendous support from Corning Inc.'s global mobility team. "Due to COVID, we couldn't visit to see and decide about our housing options," Dennis said, "and the visa process was certainly more challenging during the pandemic." But once they were here, Dennis describes that the professional support and the warm-hearted, open arms of Corning's people helped them settle in and feel good. "Believe it or not, Corning has a German community of maybe a dozen families. Our fellow Germans made and still make our Corning experience more pleasant!"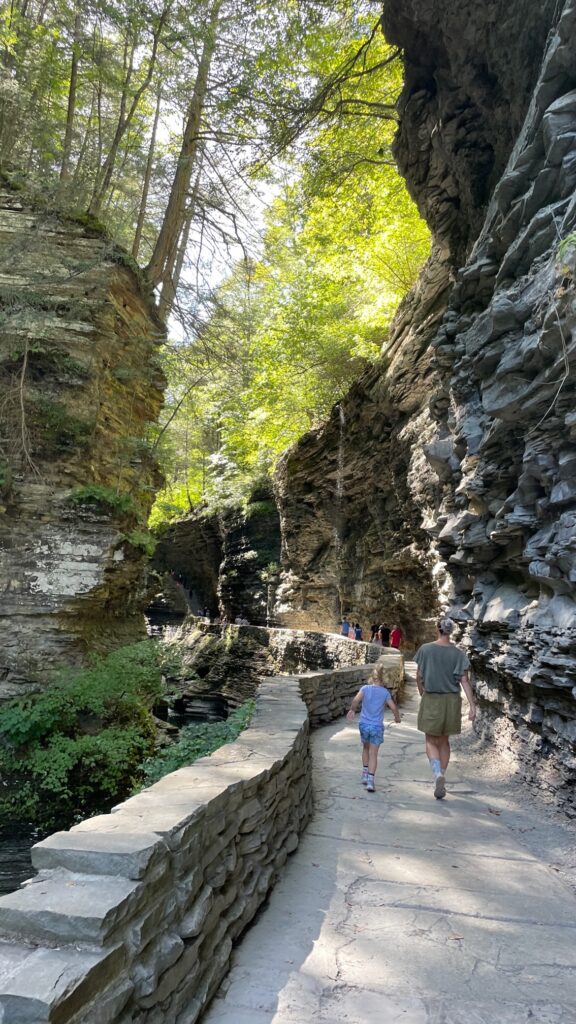 The family has found that Corning is safe, offers excellent education, and has a remarkable portfolio of activities and events, especially given its size. "People are friendly and willing to help," Margareta said, "Living on Market Street allows us to be in the middle of most of Corning's excitements." She added, "We love the YMCA with all its opportunities. We enjoy high school sports and theater plays and love how Americans make culture, sports, and events easily accessible."
They also feel a comparison seems unfair since they left their German home during COVID. "We had a great life in Germany; nothing is better or worse there, only different."
During the week, their daily routines differ little from other families – work, school, afternoon and evening courses, and story time. During the weekends or holidays, they are known to be extraordinarily active explorers. "Emma has seen 17(!) states since we arrived. We have visited NYC four times, Niagara three times, Washington D.C., Boston, and Charlotte each twice, Buffalo, and Rochester. We spent a week each in Florida and Kentucky."
But they equally enjoy a stroll on Market Street, preferably during one of the beautiful events, which is always appreciated. Centerway Bridge and its painted maze is a favorite spot in town.
Other favorites for them are the drives to Watkins Glen, Ithaca, Wellsboro, the PA Grand Canyon, and the many lakes. "We love Keuka Lake State Park, hiking the Glen, or visiting Harris Hill. We take our boat to Lake Cowanesque, Hammond Lake, or Keuka Lake."
Dennis loves American football and visits CPP High games and the magic Penn State games at Beaver Stadium. No stadium in Germany can hold 110,000 spectators. Dennis also started hunting and takes Emma fishing.
For those considering relocating to the area, the Webers invite folks to come and see how special Corning is. "Those who visited us do not need further convincing."
They added that the portfolio of activities, events, and institutions exceeded their expectations. "No need to worry about any small country town's danger of boredom."
They also agree that Corning is an excellent place to raise kids. "The town is safe. We have no concerns when walking Market Street at any time of day or night. Our daughter is thriving in an excellent school. Currently, the teacher-student ratio in Emma's class is 1-16. The town is taken care of. Parks, roads, buildings, and facilities are in good shape. Corning has not suffered the consequences of an economic downturn."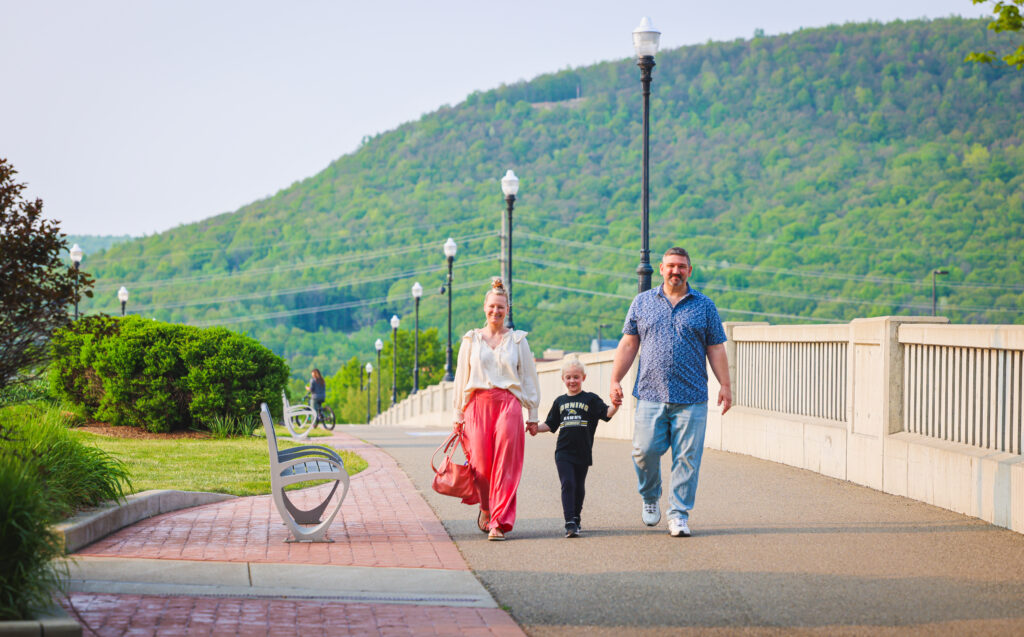 They added, "We love Corning and its extraordinary offer to our young family. Come and see. The advantages are obvious once you are here!"
Thank you, Dennis, Margareta, and Emma, for sharing your story! Read more SoFLX stories to learn about life, work, and play in the Southern Finger Lakes.